The amazing Wolf Trap Filene Center in Vienna, Virginia: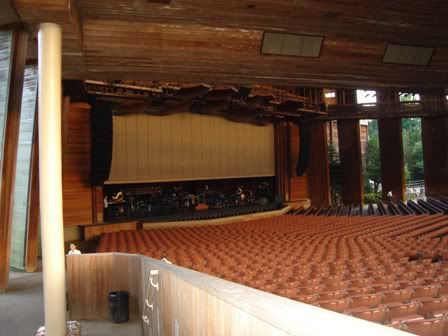 Hello all! I recently returned from attending another amazing, and my fourth, Play! concert in Vienna, Virginia. The performance was on Friday August 4th, and like the great show in Philadelphia, the Wolf Trap is an outdoor venue. The weather was perfect for an evening concert!! The place was packed, and we had to give two standing ovations for the amazing performance. The addition of all new footage from the featured game scores was absolutely spectacular.
I am very happy for the opportunity to be there in Toronto for the next Play! concert.
If you plan to go, the tickets are going fast!! Don't be left out of an incredible event!!
Here is the set list:
1. Play Theme
2. Liberi Fatali
3. Mario Medley
4. Shenmue
6. Battlefield 1942
7. Sonic Medley
8. Aeris
9. Metal Gear Solid Theme
10. Kingdom Hearts
Intermission
11. Morowind Suite
12. Music from "Prey." Again, this was wicked.
13. Swing de Chocobo
14. World of Warcraft
15. Chrono Trigger / Chrono Cross
16. Theme of Laura (Silent Hill 2)
17. Halo
18. Zelda Medley
19. One Winged Angel
Encore
20. Blue Dragon
Arnie Roth Conducted again, there were two taped messages, one from Nobuo Uematsu and one from Koji Kondo, thanking the fans. The fans loved it!