Just back from a short rest in Branson, MO and I am fully revived for the coming months. A lot's going on! Right after the Hartford Play! concert was cancelled, another one was announced for May 26, in San Jose California. Details as always are on the official site for Play! A link is available in the links section.
The countdown for the concert of the decade is now less than two months away. I'm talking about when Play! A Video Game Symphony returns to Stockholm, Sweden on June 2nd! I will be there, and will report everything. It's going to be super exciting, and it will be my first trip overseas.
Falcom finally released the Ys Origin soundtrack, and announced the third Chapter of the Legend of Heroes VI: Sora No Kiseki.
If you've checked out my links section before, you know who moAbi (OPUS XERO) is. He has now released an amazing Final Fantasy Battle Medley #2. It's a whopping 25 minutes long and is really an incedible work. Thanks moAbi, you ROCK!
check it out at the link below, it's song 2 under Final Fantasy:
THANKS AGAIN MOABI! Your music is amazing!!

I just got the Tales of the Tempest soundtrack, thanks to Cocoebiz, and it's intense! There aren't a lot of soft tracks on it, and even though it's only one disc, Motoi Sakuraba jammed a ton of raging speed into it. The first four tracks give you the impression that this game could be really dark. Mr. Sakuraba's signature style is there: the melodic orchestrations, the heavy drums, and dark organ tunes. It almost seems as if Mr. Sakuraba composed the whole thing himself. He is listed as "person in charge" in the credits, and arrangement/composition credit goes to Namco Tales Studio, but I just have a feeling that he had a much bigger role in this one. I highly recommend it.

That's all for now. In closing, I am planning to do a comic continuing the adventures of Milon from "Milon's Secret Castle". He is one of my favorite game characters, and I think I could do a really fun story with him. Only time will tell, but I'll keep you posted about it. Here's a sketch I did to see how I would like Milon to appear in the series.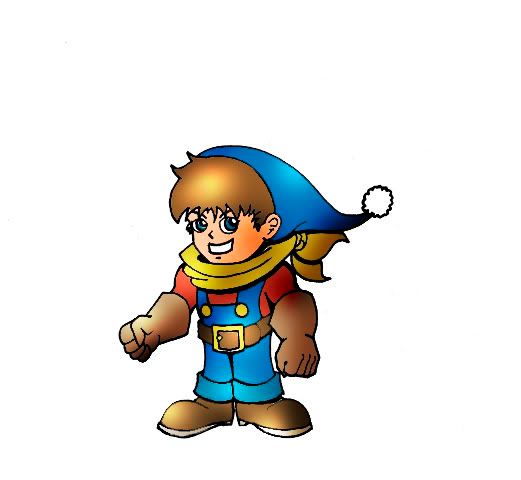 Later!