Last Saturday, June 2nd I had the pleasure of attending not one, but two more concerts in the fantastic Play! A Video Game Symphony world tour. The shows were held at 3:00pm and 7:30pm in beautiful Stockholm Sweden. That brings me up to 12 game concerts attended so far, and I won't stop now!
What a day it was! Before the show started I found Mr. Akira Yamaoka, composer for Silent Hill walking around outside taking pictures and he was quite a gentleman for granting me a photo with him (see below). I also got to meet a lot of other great people (you know who you are) and even spoke with a journalist from Australia about video game music, it's growing popularity, and the history of orchestral concert performances of video game music. It was a great opportunity to shed some light on my passion for game music and promote some well deserved respect for the very gifted composers of video game music and their hard work.
The concert was yet again conducted by the amazing Mr. Arnie Roth, who was indeed pleased to be working with the Royal Stockholm Philharmonic Orchestra and chorus once more. Surprises and special guests are a trademark of Play! and this show was no exception. Sweden's own Gustaf Grefberg was there, and some of his work from "The Darkness" was performed. Konami's Akira Yamaoka was there as I mentioned above, and even Machine Supremacy was there! When you have that much talent in one building you know amazing things are gonna happen. The entire show was a whopping two and a half hours, and the place was packed!!
Here's the Set List:
Play! Fanfare by Nobuo Uematsu
It's becoming an old favorite. It showcases the playful side of "Mr. Final Fantasy."
ANNO 1701
I hadn't heard a lot about this RPG, but the footage shown really looked cool. This piece was great, and reminded me of a village.
Commodore 64 medley
This was just fantastic! I wasn't a hardcore C64 player back then, but a couple of the games I was definitely familiar with. Some titles included in this medley were Last Ninja, International Karate, Great Giana Sisters (loved this), Wizball, Forbidden Forest, and Ancestors. It was great to see the old games in action.
The Darkness
From the new game based on Marc Silvestri's Top Cow Comic. Great work by the choir here, very dark. The video shown from the game looked promising.
Castlevania
Simply awesome. If you're familiar with the Perfect Selection Dracula New Classic CD, you'll love this, especially the second part, which includes a fantastic organ performance. Let's face it, organs are a trademark of the series. I would be surprised if there wasn't one. Gotta love it. Cinemas from Castlevania: Curse of Darkness were provided and worked great here.
Lost Odyssey
The latest from Nobuo Uematsu and Hironobu Sakaguchi. This looks incredible! Not only was the music stirring, the cinemas shown were not typical from what we're used to seeing from Mr. Sakaguchi either. But then again this isn't Final Fantasy. Really looking forward to it.
Super Shinobi
If you know me, you know I am a diehard fan of Yuzo Koshiro. He's the best. His arrangement for this was amazing! Though it was orchestrated, the energy was from Mr. Koshiro was still there. Great footage from the Genesis game was shown.
Silent Hill 2: Theme of Laura (guitar performance by Mr. Akira Yamaoka)
Akira Yamaoka rules! This was my second time seeing this performed by him, and he does it the best. He definitely has a great stage presence, and on the outside he seems like quite a dark fellow, but I found him very approachable when I saw him outside before the show.
Metal Gear Solid
One of gaming's great themes, I think. It's instantly recognizable.
Super Mario Bros.
The old classic. Everyone always cheers for this. I am still amazed at how many Mario games are featured in this medley.
Intermission
Mars, from "The Planets" by Gustav Holst
I was certainly surprised to see a non game piece here, but I wasn't disappointed! Mr. Roth explained how the work of Holst was a big influence on so many of the great composers of our time, including composers for games. It certainly felt like it could be in a game. Great job!
Commodore Amiga Medley
I was a lot more familiar with these pieces, especially Turrican 2. Games included in this medley were Turrican 2, Alien Breed, James Pond 2, Pinball Fantasies, Lionheart, and Lemmings. It should be noted that both the C64 and the Amiga Medley were exclusive to this concert.
The Elder Scrolls IV: Oblivion
This game is becoming quite huge, and Jeremy Soule's music for it has me listening to the soundtrack quite often.
Shadow of the Colossus
One of the best games I've ever played. The opening is featured here, and again, the choir was amazing. I would love it if Play! were to feature some of the battle music from Colossus one day.
Legend of Zelda Medley
Video featuring Mr. Koji Kondo announced this piece, and of course everyone loves it.
It's so classic, you can't go wrong.
Time For The Finale!
Dancing Mad
The last battle from Final Fantasy VI, my favorite Final Fantasy. I have waited years and years to see this performed live. I was speechless, Machine Supremacy came out and they had to play from another platform, with the orchestra and the choir taking up so much room already. It was flawless, and complete. Ha! The only thing missing was Kefka's famous laugh. Everyone went insane for this. I mean, I traveled to Sweden all the way from America to see this. The choir was amazing, and the organ soloist must have worked extra hard, because he did an incredible job. So you have the orchesrta, the choir, a real pipe organ and hardcore speed rock. All the necessary ingredients were there. At the end of the piece Machine Supremacy played the extended ending melody you may know if you've heard the Black Mages CD. It was a complete success, and very loud, amazing.
What a concert! Several standing ovations were given by the audience, and everone was happy! This was the loudest crowd I've ever seen at a game concert. Everyone had a geat time. At the 7:30 show, we even got an encore of the last part from Dancing Mad.
After the event there was a meeting session with Gustaf Grefberg, Arnie Roth, Akira Yamaoka, and Machine Supremacy. It was fantastic. With my old Program book filled with autographs, I bought a new one and was delighted to get some new signatures on it. I spoke to Machine Supremacy for a few minutes and they were just great, and they were really surprised at how far I traveled.
This was defintely one of the best days of my life ever, and I even got to meet two friends from the Ancient Land of Ys Message Board.
It was so worth it, I would never miss it. THIS is what I mean when I say don't forget to live.
A Fantastic example of the wonder of Stockholm, Sweden. Lots of beautiful structures everywhere. I'll surely return one day.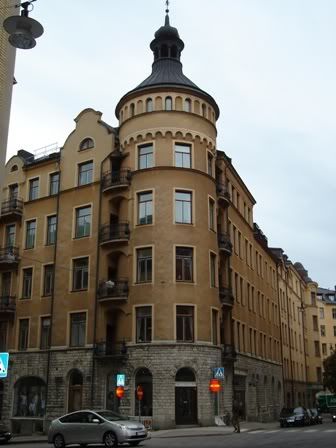 The Royal Stockholm Philharmonic prepares to dazzle all of us: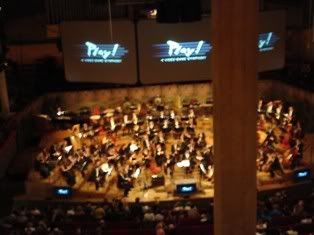 Fans take their seats as showtime draws near. Check out the gorgeous architecture!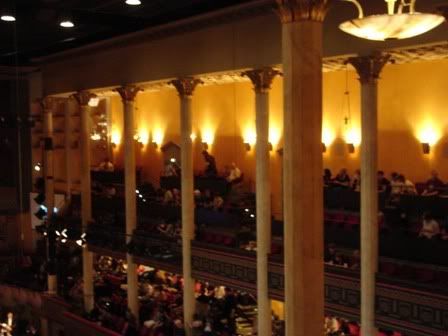 Konserthuset! Think of it as "concert house". Inside is where all the magic happened: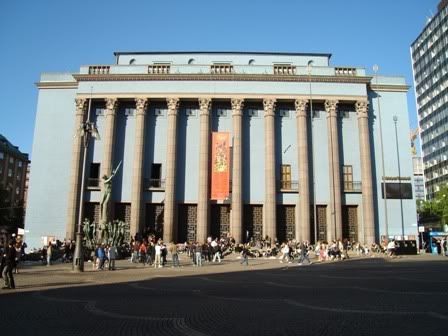 The electronic sign outside the concert hall: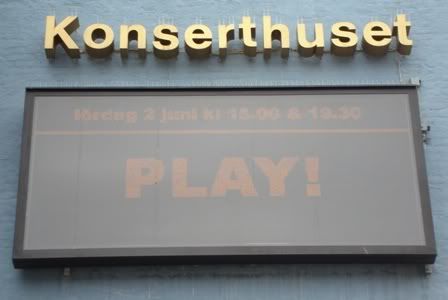 The Banner hanging from the center of the "Konserthuset" Concert Hall was enormous, and was the largest I've ever seen for Play!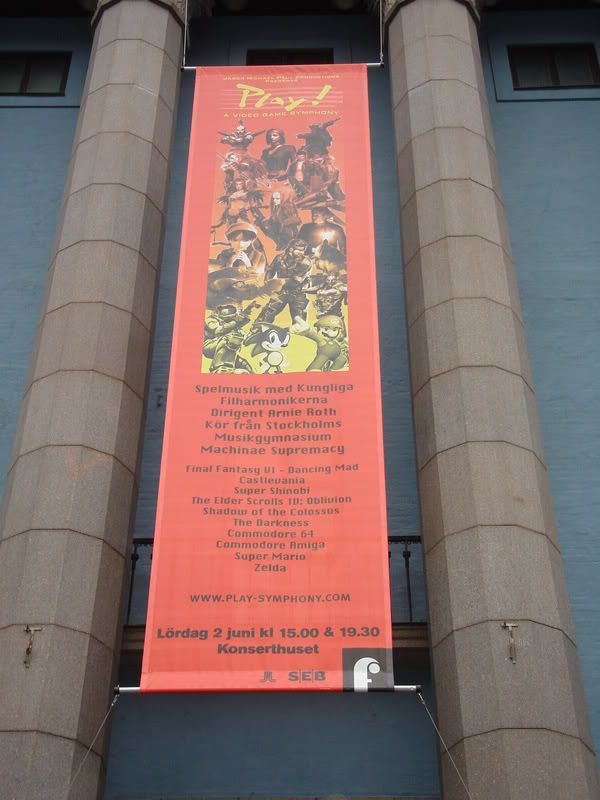 One of many framed posters hanging about the Concert Hall promoting the event: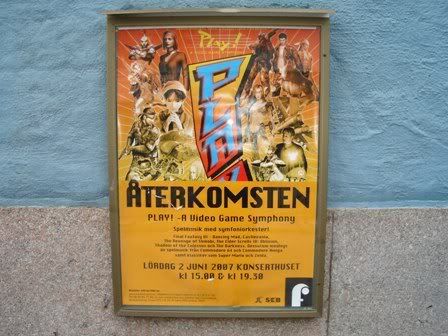 The NES video game cover band Powerplay performed several classics for those waiting to enter! Here they are playing music from Super Mario Bros. 2!
Here they are playing "FlashMan" from MegaMan 2!
For more videos of Powerplay feel free to check my channel on youtube:
Thanks for watching!

I hope you enjoyed this writeup, and please visit the official Play! site for more information on upcoming shows, and don't forget to sign up for their free e-mail newsletter!

Thanks again to Jason Michael Paul Productions for making this event possible, and for bringing game music to the forefront with Play!

Additional credits:

Alien Breed by Allister Brimble
James Pond 2 by Richard Joseph
Pinball Fantasies by Olof Gustafsson
Lionheart by Matthias Steinwachs
Lemmings by Brian Johnston and Tim Wright
Turrican 2 by Chris Huelsbeck

International Karate by Rob Hubbard
Great Giana Sisters by Chris Huelsbeck
The Last Ninja by Ben Daglish
Wizball by Martin Galway
Forbidden Forest by Paul Norman
Ancestors (Zoids Desert Battle) by Larry Fast



My Play! Program Books, the new one is on the bottom: